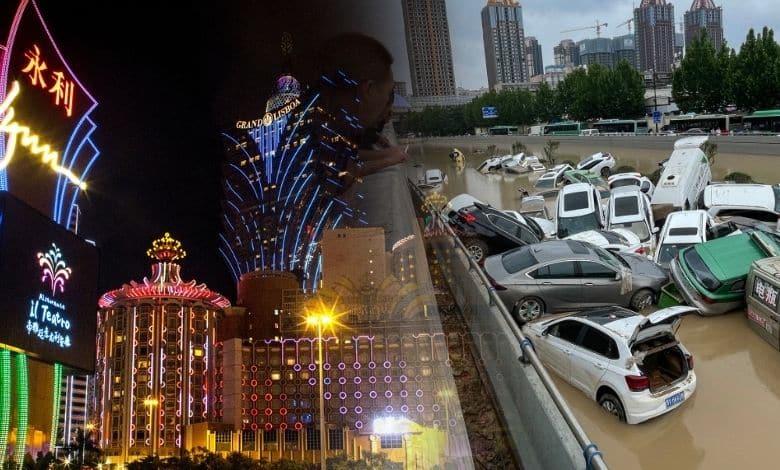 Millions of Dollars Donated to Flood Relief in Henan by Macau Casinos
Macau casinos are over 600 miles south of Henan province and its main city, Zhengzhou, where floods and torrential rains are still wreaking havoc. However, the six commercial gambling companies are still contributing to relief.
Some 33 people have died as a result of the continuing severe rains. Rainfall is predicted to increase over the next few days, according to meteorologists. More cities and Hebei, the nearby province, are predicted to be impacted by severe flooding.
Casinos in Macau are pitching in to assist people who have been affected. The six gaming companies have pledged a donation of MOP10.5 million ($1.50 million) each. The total amount dedicated to relief efforts is $7 million.
In Macau, China's six permitted gaming companies are MGM, Sands, Melco, SJM, Galaxy, and Wynn. Slot machines and table games are only allowed in the Special Administrative Region of the People's Republic.
Henan province was affected by excessive rain and consequent flooding from July 16 onwards, with the capital Zhengzhou being the hardest hit. According to an announcement issued by the provincial authorities in charge of dealing with the flooding situation on Thursday morning, the natural disaster has claimed the lives of 33 individuals.
The gifts were made in collaboration with the Central People's Government Liaison Office in Macau to assist the city of Zhengzhou with flood relief efforts and post-disaster recovery.
"Henan Province has been severely impacted by unusually high rainfall, with precipitation being particularly severe in the provincial capital Zhengzhou," stated Dr. Lui Che-woo, Chairman of Galaxy Entertainment. As a Chinese person, I believe that "blood is thicker than water," and I am heartbroken by the flood-related deaths and property losses.
In July, once Beijing classified the cross-border flow of funds for gambling as a national security issue, an extraordinary frenzy to remove money from junket companies that entice high rollers began.
The withdrawals coincide with China's complete resumption of tourist visas for Macau beginning September 23, and executives warn that additional arrivals could mean more money being taken out.
According to Reuters, the supply of Hong Kong dollars in Macau is currently stable, and the monetary authority has taken steps to assure appropriate cash supply.