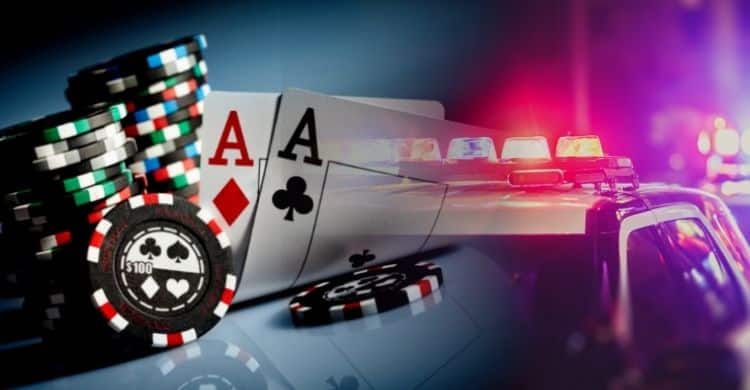 Hong Kong Policeman Taken to Court for Illegal Gambling
Hong Kong police have busted an illegal gambling space in the Selwyn Factory building in Kwun Tong, one of Hong Kong's eighteen districts. The location supplied betting games to several people. The 1,600 square-foot improvised casino establishments were raided by police, who arrested a total of 48 people. Surprisingly, one of the individuals arrested was a local police officer working for the city's law enforcement.
A police officer at the Cheung Sha Wan station, Ng Hin Fung, worked a second job at the illegal establishment, which operated or assisted in poker games. He is now facing charges on two counts:
The first is illegally running a gambling establishment. Ng Hin Fung, 29, faces a maximum prison sentence of two years and a fine of $640,000. The second offense is holding an illegal public gathering in violation of the coronavirus regulations. The policeman could face up to six months of imprisonment and a fine of $3,000 if convicted of this charge.
The Raid resulted in more Arrests
According to the South China Morning Post, Hong Kong police arrested 48 people in all. There were 12 women and 36 women among them, the majority of whom were twenty-somethings. Both young and old people were present. They are from different walks of life, with some studying, while others are professionals in different fields, and some are unemployed.
Kong Wing Sum, 29, and Wong Chun Long, 24, were placed under arrest on grounds of operating games in an illegal casino. The unlawful gambling establishment's manager and his assistants face the most severe charges of operating an illegal gambling establishment. The other people arrested were players, 21 of whom had already confessed to their wrongdoings and received a smaller $128 fine.
In addition, four poker tables were discovered in the Selwyn Factory building, which housed the illicit casino. The location was littered with gambling-related things such as chips, cards, and the like. The police officers took a total of $77,200 in the form of cash and chips.
Illegal gambling is a persisting issue in Hong Kong, and it frequently necessitates police intervention. In December, police raided a far larger underground gambling den in the Tsim Sha Tsui neighborhood, seizing more than $3 million in chips.